12:00 24.11.2018
Will Bulgaria Be Able To Oppose Russian Schemes
On the intricacies of Russian-Bulgarian relations. How did energy dependence develop?
A Burdensome Heritage of USSR's "Sixteenth Republic"
Through the whole history of Russia (Tsardom of Muscovia, Russian Empire, USSR, Russian Federation) Balkans were among of the most important interests to Russia. The one intending to destabilize Europe always tried to achieve this through Balkans. It is not a coincidence that on the eve of Bulgaria joining European Union in 2007 Russian ambassador in Brussels openly stated: "Bulgaria will be our Trojan horse in EU!"
And this claim has a solid ground: the relations between Russia and Bulgaria are deep rooted. Bulgaria is a former satellite state of USSR, and even 11 years past joining the European Union it is still strongly connected with Moscow, economically first of all. After Russian-friendly candidate winning the presidential elections and after the change of government, this connecting became ever stronger. The main Russian leverage of influence against Bulgaria is still the dependence from energy supplies. Russian energy companies are still govern the Bulgarian energy market: we are speaking about natural gas supply, gas pipelines building and atomic power plants. And this dependence only goes deeper, and only in a way beneficial to Russia.
An example would be a widely covered story of Belene Nuclear Power Plant — a Russian protracted building project, which costs (comparing to initial budget) increased for over 10 billion Euros. Back in 2012, when Boyko Borisov, then a pro-European Prime Minister of Bulgaria, made a decision against continuing of the building of power plant, Russian company "Atomstroyexport" (a fully owned subsidiary of "Rosatom") went to the International Court of Arbitration of International Chamber of Commerce, and their claims were partially ruled in favor for. Bulgarian side was obliged to pay almost 602 million Euros to "Atomstroyexport" for work performed and as reimbursements, plus 130 thousands Euros per day as interest, until full sum will be paid. This hurt a lot to a country with a GDP of 11 billion Euros. A financial hook like this Russia tried to use to the fullest. During the further negotiations Moscow in the end agreed to "pardon" almost 24 million Euros to Bulgaria, if country will agree to another reconstruction project, this time for the Kozloduy Nuclear Power Plant (a plant built back in the times of USSR, responsible for almost 2/3 of Bulgarian electric energy, and completely dependent from the supply of Russian-made fuel elements). Caught in the Russian economic grip, in the end of October 2016 Bulgaria was forced to sign an openly oppressive agreement for 360 million Euros for modernization of the first reactor of Kozloduy Nuclear Power Plant.
Kremlin's grip is just as tight in the sphere of oil products. Bulgaria imports from Russia all the oil necessary for its industry and economy, the largest network of gas stations in the country and the only (and the biggest on Balkans) oil processing plant are owned by a Russian company "Lukoil" (the oil processing plant LUKOIL Neftochim Burgas covers 40% of country fuel needs).
In the gas sphere, Russia supplies the country with virtually all necessary gas (85% of it), and Russian "Gazprom" concern owns almost a half of Bulgarian largest private gas company "Overgas". "Gazprom" monopoly costs a lot to Bulgaria: it pays the highest price in Europe of all countries, on average 30% more than Germany. Quite alike to Ukraine before 2014, isn't it?
All in all, according to conservative estimates of experts, Russia directly controls up to 25% of Bulgarian economy, and these numbers go up to 35-40% if account for indirect influence. Russian influence on bank sector and real estate market is high as always. According to Novinite media agency, in Bulgaria, with its 7.2 million population, over 84 000 Russians are real estate owners, first of all across the coast of Black Sea.
Bulgaria at the Crossroads
Prime Minister of Bulgaria Boyko Borisov is searching the exit from the total dependence of his country from Russian energy supplies. But the weird thing is, he tries to find one with the help of Moscow, where the Prime Minister's negotiations with Vladimir Putin are active. At first half of the 2018 he tries to play on country's status of Presidency of the Council of the European Union, and tries to convince Russia to extend the "Gazprom"-planned TurkStream gas pipeline further beyond Turkey, into Bulgaria. According to Borisov, TurkStream will be connected to the planned "Balkan hub" near Varna, on the Black Sea cost of Bulgaria, which in turn will be supplying Eastern and Southern Europe. Effectively, this would resurrect the "South Stream" gas pipeline project, cancelled in 2014.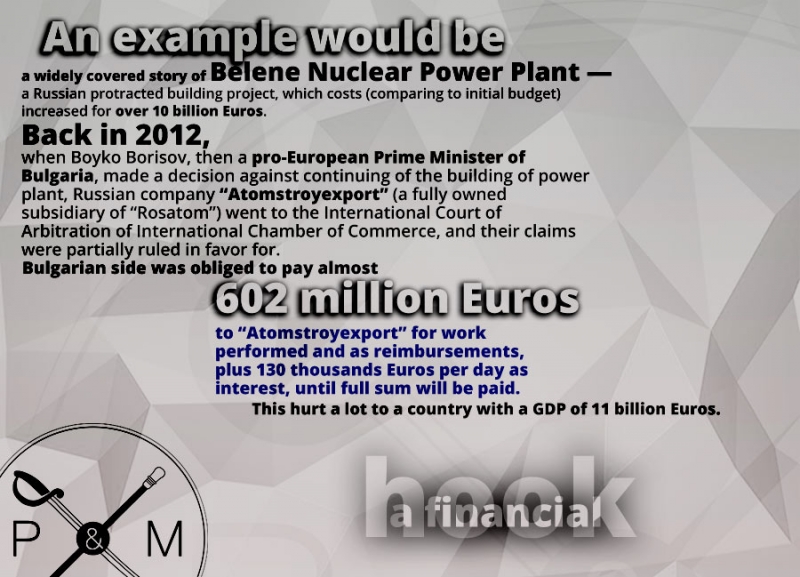 The same is done by a President of Bulgaria Rumen Radev. During his visit to Moscow, and later while visiting Sochi, he was received by Russian president, where Radev advocated for renewing of highest level contacts, and tried to re-open the project of building "South Stream" gas pipeline project on the Black Sea floor. Radev had reasons to think that Vladimir Putin will appreciate Sofia's refusal of sending out Russian diplomats in connection with Skrypal case, its opposition to anti-Russian sanctions of EU, and a public recognition of Crimea annexation to be a  fait accompli by Radev.
It is worth of note that the cancellation of " South Stream" project hurt Bulgaria's relations with EU. For a long time Bulgaria had its hopes high on "South Stream" project, which would supply the natural gas bypassing Ukraine, but this project was not implemented because of EU and USA pressure. But the fact that Germany itself is supplied with Russian gas bypassing Ukraine, led to the increased annoyance in Bulgaria, regarding "Western lies" and "double standards".
In addition, the anti-Russian sanctions led to a counter effect to same degree, and only made the conflict between Bulgaria and the rest of EU worse. The lost income hurt more for poorest countries of East Europe than rich Western neighbors. And Bulgaria is still the poorest country in European Union, with an average income of 480 USD (the lowest in EU), where corruption is at high, and the government institutions are at low. That's why Putin's carrot is so attractive. And it's not surprising at all that Radev's Bulgaria is on the course of getting closer to Russia.
Of course Vladimir Putin will use his chance of "Separating" Bulgaria from the European Union, especially under circumstances where Bulgaria cancelled the project of nuclear plant and "South Stream" constructing, while got little in return from EU. This is a true window of opportunity for Russia to radically change the Russia and EU confrontation for the influence in the Black Sea region. After his failure with Catalonia, Putin of course will be eager to entrap another European country, "disillusioned" in European Union. Strategic plans of Putin do not require Bulgaria to be bind to Russia, as was in Soviet times, that would be too expensive. But he wants to keep the domination of Moscow on Bulgarian energy market, to block the inconvenient decisions of EU through his influence on Bulgaria.
In case of Putin's strategy prove successful, this can be a rematch for Russian influence in Eastern Europe, and in the end might change the balance of power in the whole European Union to the benefit of Russian Federation.
Now what?
There is no doubt in the fact that any change of course by Sofia in the direction of Moscow undermines the efforts by EU and USA to demonstrate the united front in the relations with Putin, while Russia tries to restore its influence in Ukraine and other former states of Warsaw Pact. Everything show that Moscow tries to turn Bulgaria into its foothold in European Union, which might cause its fragmentation. Bulgaria is a perfect target for Kremlin in its fight for spheres of influence in Europe, as the country is almost completely dependent from imports of fuel from Russia, while almost 1/3 of its industry is controlled by Moscow in direct or indirect ways. And the opportunity to use Bulgaria as a "Trojan horse" in European Union Moscow will use, there's no doubt of it.
We must admit that the leading states of European Union are much to blame for the current situation. While EU was struggling with economic crisis, an economic presence of Moscow was spreading through Bulgaria. Kremlin played its cards well, emphasizing the fact that Moscow is the second largest trade partner of Bulgaria, and anti-Russian sanctions will hurt over 2 thousands of Bulgarian companies. Many Bulgarians came to think that antagonizing Moscow would be a foolish and short-sighted step. In addition, many Bulgarians are pro-Russian by default, which is clearly visible from their careful attitude to memorials of Russian soldiers. Still, the polls show that majority of Bulgarians would prefer to stay in EU, and not to join Putin's Eurasian Economic Union.
At this moment Bulgaria is split between two realities. One would be a nostalgia of Soviet past, as joining EU did not bring much riches to Bulgarians, which was something many was hoping for. The other would be that Bulgarian government must state a firm dedication to Europe, or the country will be held in Russian grip forever.
The reality says that the first position looks more promising now. The ruling parties are still full of old Communist Party members, ex-members of security and intelligence forces from Todor Zhivkov times, and then there's rich Bulgarian oligarchs who support Vladimir Putin. For example, Tsvetan Vasilev is considered to be the most influential magnate of country. His Corporate Commercial Bank AD serves as a middleman for most of Russian funds directed into different spheres of Bulgarian economic, including the energy market.
The ambiguity of relations with Russia is clearly visible in the foreign relations of current Bulgarian government. On one hand, Sofia advocates for convergence with other EU countries, it did not oppose the first round of anti-Russian sanctions, and twice joined the US Navy exercises in Black Sea. On the other hand the country's dependence from Russian fuel forces the government to make a restricted decisions in relations with the Kremlin, sometimes even decision which contradict to EU policies.
This can be easily seen in the mixed attitude of Bulgarian leadership to Ukrainian crisis. First Bulgaria officially condemned the Crimea annexation. But later the former Prime Minister Plamen Oresharski warned European Union against the adoption of anti-Russian sanctions, threating with Bulgaria vetoing them, while the leader of Bulgarian socialists Sergei Stanishev explained that Bulgaria will be the first to suffer from these sanctions. Being under pressure from EU, Prime Minister later changed his opinion and stated that Bulgaria will not support new sanctions, but will not try to veto them either.
The situation with Russia influence on Bulgaria is very important for EU, especially after Brexit. An expert Commission of European Union even warned the Bulgarian government that Sofia is at risk of completely falling under Russian political and economic influence, unless Bulgarian government will not cooperate with Brussels more effectively.
But the way out for Bulgaria must be found in the getting out of Russian expansion in energy market.
Official Washington already declared the US readiness in helping Bulgaria to find the alternatives to Russia, including the possible gas pipeline link to a LNG terminal in Greece and the atomic energy plants. The agreement between Bulgaria and American nuclear company Westinghouse Electric Co. (signed back in 2015) must be implemented, which will allow for building the new reactor on Kozloduy Nuclear Power Plant, which in turn, and in time, will allow for getting rid of dependence from Russian fuel elements.
Implementing of energy saving technologies in the thermal power industry is another way which would allow for decreasing the dependence from Russian natural gas supplies. Introducing of energy saving for living quarters would allow to save millions of Euros. In Bulgaria, over 2.7 million people leave in the old apartments building in need of reconstruction. This is, by a way, a priority target for other countries of European Union, which spend up to 40% of energy on heating of buildings.
In conclusion, we can state that if Europe wants to keep its unity, it must come up with and follow to a consolidated position in relations with Russia in the questions of security and energy, and this position must take into account the interests of all EU members, no matter their level of economic development. This is the only way EU can minimize the risks of Bulgaria and other new members, which were once a part of Warsaw Pact, might be back again under the Russian influence.
У самурая нет цели, есть только путь. Мы боремся за объективную информацию.
Поддержите? Кнопки под статьей.