16:24 23.11.2018
Who and Why Loves Putin in Europe and USA? Part 2
European Putin's supporters Part 2: Greece, Czech Republic, Poland, Austria and others.
Greece (Hellenic Republic)

The Coalition of the Radical Left (known by the syllabic abbreviation "Syriza" or "ΣΥΡΙΖΑ") — a radical left party (formerly a union of parties of left socialist, euro-communist, maoist, trotskist and ecological directions) in Greece. At last elections won 20% of votes.
The party demonstrates a certain level of russophilia, mostly connected with euro-skepticism. After Alexis Tsipras coming to power, the relations between Greece and Russia became noticeably warmer. Russian ambassador Andrey Maslov became the first foreign official to be invited to the official residence by Syriza leader and a Greece Prime Minister Alexis Tsipras.
During the visit to Moscow in 2014 Tsipras actively criticized the EU sanctions against Russia and supported the position Kremlin, according to which Ukraine allegedly is responsible for the cruelty in the country, as it sheltered the neo-nazi fascists in the government after the resignation of president Yanukovich.
In May 2015 Tsipras visited Moscow, where during the meeting with Chairwoman of the Federation Council Valentina Matviyenko he criticized the sanctions against Russia, mentioning that they are hurting Europe. In the January 2015 Alexis Tsipras did not agree to calls to introducing additional sanctions against Russia because of intensification of violence in Ukraine, and delegates from Syriza in European Parliament voted against the Ukraine–European Union Association Agreement and against resolutions condemning the annexation of Crimea by Russian Federation.
Panagiotis Lafazanis, a Greek Minister of Productive Reconstruction, Environment and Energy and a leader of ultra-left faction of Syriza party stated: "We are against the embargo which is introduced against Russia. We have no disputes with Russia and Russian people."
Former Minister for Foreign Affairs of Greece Nikos Kotzias (was a Minister until October 17th 2018) in 2013 invited Russian radical left ideologist Aleksandr Dugin to University of Piraeus, where he held a course of lectures on Russian foreign affairs policy, on plans of Vladimir Putin on the creation of Euro-Asian Union, and on how "Greece together with Orthodox Christian Slavic states must create a counterweight to the European Union".
In May 2014 Alexis Tsipras, now a Prime Minister of Greece, was welcomed in Moscow as a honorary guest by the Chairwoman of the Federation Council Valentina Matviyenko. Since that moment, Tsipras echoes the Kremlin statements on how Ukrainian governments is consisting of "fascists and neo-Nazis", he supported the separatist referendums in Eastern Ukraine, confirmed Greece's negative attitude to new European sanctions against Moscow.
Ivan Savvidis — a prominent Rostov businessman of Greek origin, who owns the "Agrocom Group" and is included to the Forbes list of richest people of Russia. In 2012 Savvidis obtained the majority stake in Greek PAOK Football Club. Aside from this, in Greece Ivan Savvidis also owns the tobacco manufacturer SEKAP, Makedonia Palace hotel, all in all investing over 300 million Euros in the Greece economy. As of this moment he owns Epsilon and MEGA TV channels, "Εθνος", "Εθνος της Κυριακής" and "Ημερησία" newspapers. He got a Greek citizenship in 2013 and lives in Thessaloniki.
He is considered to be a Putin's creation for the Kremlin's policy promotion in Greece. A member of "United Russia" party. In 2015 Savvidis openly helped to arrange the meeting of Vladimir Putin and Alexis Tsipras during the St. Petersburg International Economic Forum.
Therefore, the esteemed positions of Savvidis in important spheres of business and media in Greece, and his close contacts with Prime Minister of Greece Alexis Tsipras allow him to provide a noticeable influence on Greek policy in the interests of Russian Federation and Vladimir Putin.
"Greek Solution" ("Elliniki Lysi") — a russophilic political party. Its leader is a religious German-born journalist Kyriakos Velopoulos. His party sees the salvation not in the Acropol but in faraway Moscow, as "the greek humility to West, and first and foremost to centers of power in Berlin, Brussels and Washington became the source of all evil". As a result, Velopoulos considers, "we have no choice but to turn away from West and to enter the union with Russians and Putin". According to politician, Putin and his friends are Orthodox Christians, as Greeks themselves are, that's why Russians will treat Greeks as equals, as opposing to the evil Western countries.
The "Independent Greeks" ("Anexartitoi Ellines", ANEL) — a right wing populist party, a partner of Syriza in parliament coalition, also is an ally of Kremlin.
Panos Kammenos, a leader of the party and the Minister of National Defence, visited Moscow in January of 2015, where, during the meeting with the head of the Foreign Affairs Committee in the State Duma Aleksey Pushkov and the representatives of ruling party "United Russia", he claimed that "sanctions against Russia are counter to the interests of Greek people. Because of their introducing the agriculture of Northern Greece suffered a huge losses."
The "Popular Association – Golden Dawn" ("Laïkós Sýndesmos – Chrysí Avgí") — a Greek ultra-right neo-Nazi party, registered at Novermber 1st 1993.
The leadership of the party never hid its close connection with Russian ultra-rights, and is supposed to be financed from Russia. The web site of New York branch of the party says that leader of the party "made a clear statement in favor of alliance and cooperation with Russia and for the withdrawal of Atlantic navy forces".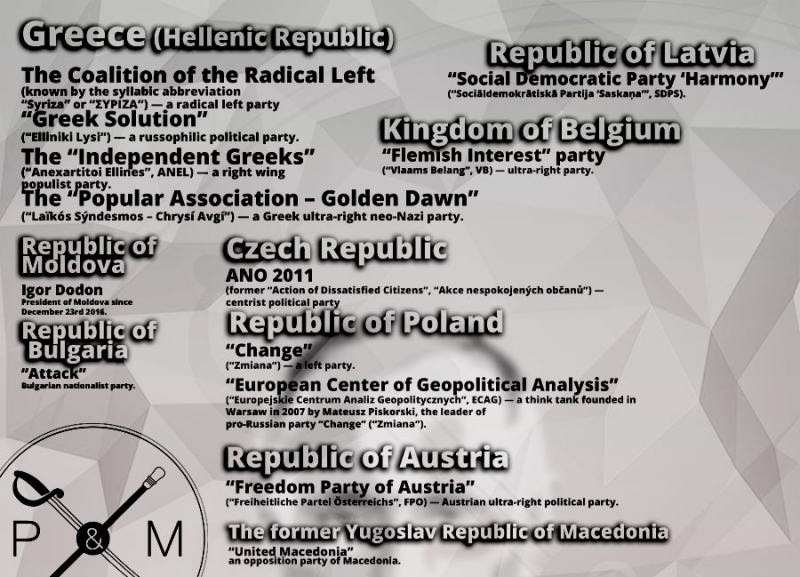 Czech Republic

Miloš Zeman — a Czech politician, an acting president since March 8th 2013. From 1993 until 2001 he was the leader of Czech Social Democratic Party.
He is considered to be one of the most high profile advocates for Moscow in Europe. He describes himself publically as a partner of Vladimir Putin in Europe, claiming that "Prague relations with Moscow are ten times more important than relations with neighbors, such as France".
He spoke against anti-Russian sanctions, for the annexation of Crimea to be considered the fait accompli, he visited Russia in Nobermber 2017 with a business delegation and met with Vladimir Putin, soon after Brexit referendum he suggested to conduct a referendum on Czech membership in European Union and NATO. Zeman supported the Putin's intervention in Syria, as well as Russian actions on the east of Ukraine. He called Ukrainian conflict to be a civil war between the rebels and the government, in fact denying any kind of Russian aggression and the presence of Russian military on the Ukrainian territory.
At November 2th 2018 during the meeting with French leader Emmanuel Macron in Prague, he stated that all the attempts of forceful removal of Syrian president Bashar al-Assad would be counter-productive.
ANO 2011 (former "Action of Dissatisfied Citizens", "Akce nespokojených občanů") — centrist politica party in Czech Republic, founded in 2011.
Leader of the ANO party Andrej Babiš, a Czech businessman and a politician of Slovakian origin. Prime minister of Czech Republic since December 6th 2017. Andrej Babiš calls for limiting of immigration, for introducing of financial discipline and for limiting the connections with Europe. Sustains the close affiliation of party with Miloš Zeman. At November 15th 2018 Czech Senate with a majority of votes called for Andrej Babiš to resign from his position.
Senators considered unacceptable that Babiš kept his sit in the government, considering the new aspects of investigation into his manipulations with European subsidies. It is supposed that 1.9 million Euros were invested into the agricultural company owned by Babiš family, circumventing the law. Political crisis connected with Babiš case can dramatically change the political situation in Czech Republic.
Republic of Poland

"Change" ("Zmiana") — a left party created in 2015, openly stating its pro-Putin stance. Denies the presence of Russian forces at the east of Ukraine, promotes the lifting of anti-Russian sanctions.
The leader of party Mateusz Piskorski doesn't hide his pro-Russian position, collaborated with Moscow information agencies, commenting on the international events and Polish internal affairs in the aspect of Russian foreign affairs policy. He was an observer on the illegal "referendum" in Crimea in 2014, not once visited the Donbass territories occupied by Russia, where he met the members of occupation administration, including Aleksandr Zakharchenko.
In May 2017 Warsaw Prosecutor Office officially confirmed that they are conducting an investigation on Mateusz Piskorski, suspected in the espionage for Russia and China.
"European Center of Geopolitical Analysis" ("Europejskie Centrum Analiz Geopolitycznych", ECAG) — a think tank founded in Warsaw in 2007 by Mateusz Piskorski, the leader of pro-Russian party "Change" ("Zmiana"). ECAG are known in Poland as the propagandists of Euro-Asian idea, a variety on pan-Slavism idea. The Russian political expert Aleksandr Dugin, who promotes the concept of "Euro-Asian civilization" with center in Russia, is considered to be an ideologist of Euro-Asia idea.
Republic of Moldova

Igor Dodon — President of Moldova since December 23rd 2016.
A committed aficionado of Vladimir Putin, who he sees as an role model. After the election he intends to keep the relations between Chișinău and EU, while strengthening the "traditionally firm" connections with Moscow. Maintains the personal friendly contacts with Putin. During the last meeting with Putin in Autumn 2018 he achieved a promise of lifting the Russian embargo on importing of fruits and vegetables from Moldova.
Though declaring the necessity of simultaneous cooperation with West and East, Dodon prioritizes the development of strategic partnership with Russia, as he considers that "Eastern partnership" of European Union doesn't work as intended any more. Despite the European Union Association Agreement coming into the effect since July 2016, Dodon is critical of feasibility of Moldova joining the European Union and advocates for country joining the Eurasian Economic Union. In 2017 Dodon signed a memorandum of cooperation with Eurasian Economic Union promoted by Moscow, and unilaterally asked for status of observer in this organization.
Republic of Bulgaria

Bulgaria traditionally is in the Russian sphere of influence. Approximately 25% of Bulgarian GDP are connected with Russian interests. Russian oil company "Lukoil" is the largest in Bulgaria, and "Gazprom" is the sole supplier of natural gas to country.
It is worth to mention that Russia gave independence to Bulgaria in 19th century, and psychologically Bulgarians are more welcoming top Russia than to European Union and NATO.
Rumen Radev — a president of Bulgaria of oppositional Socialist party. He is an advocate of recognizing Crimea to be Russian, lifting of European sanctions against Russia and also of limiting the NATO operations in the area of Black Sea.
"Attack" party — Bulgarian nationalist party founded in 2005. A survey of European Council on Foreign Relations recognized "Attack" the most anti-Western party in European Union. "Attack" supports the Bulgaria exit from NATO and the revision of its membership in EU, calls for vetoing of EU sanctions against Russia and for recognizing the results of Crimean referendum.
Party stands in solidarity with Vladimir Putin and his policy, has a tight connections with Russian embassy. Leader of the party Volen Siderov has a strong contacts with the leader of French ultra-right wing party "National Front" Marine Le Pen, and has a similar stance on the necessity of future cooperation with Russia and the tightening of migration regime.
Republic of Austria

According to political experts, Austria in general is friendly towards Russia, which is connected to Austrian dependence from supply of Russian natural gas. Today Austria is one of the most important importers of Russian gas in Europe. In last 50 years the volume of gas import increased 64 times, reaching record high in 2017, 9.1 billion m3 per year. In addition, about 25% of Russian gas is pumped through the Austrian gas pipeline hub, which allows for additional earning on gas transit. Direct investments of Austrian companies in Russia totals to approximately 5 billion Euros, the trade turnover between two countries increased 40% comparing to 2016: import from Russia increased 17%, export to Russia increased 20.5%.
A fear of losing Russia as the main supplier makes Vienna to be loyal to Russia. Chancellor of Austria Sebastian Kurz criticizes American sanctions against Nord Stream 2 pipeline, refuses to deport Russian diplomats in connection with Skrypal case. Moscow expects pro-Russian position from Kurz in the process of lifting the painful sanctions, which will finally lead the Russia out of isolation. And for now Kurz is up to Russian expectations — Russia was the first country outside of EU the head of Austrian government visited after accepting the post. In March 2018 during his Moscow visit Kurz informed Vladimir Putin of Austria being ready to take the responsibility for peacemaker mission in Donbass and supported a controversial Nord Stream II project.
"Freedom Party of Austria" ("Freiheitliche Partei Österreichs", FPO) — Austrian ultra-right political party leaded by Heinz-Christian Strache. FPO is considered to be a populist party, and also described as an Euro-nationalist party. The leaders of FPO in their public statements demonstrate the support of Russian foreign relations policy. It advocates for legitimization of Crimea referendum, tightening of immigration control, maintains contacts with Kremlin government representatives. In December 2016 party signed an agreement of cooperation with ruling party "United Russia". Members of FPO constantly visit the occupied Crimea and publically state it's belonging to Russia. FPO constantly promotes lifting of anti-Russian sanctions implemented because of Ukrainian crisis. High profile party members do not hide their sympathy to Vladimir Putin. The appearance of Putin himself on the wedding of Karin Kneissl, who was appointed Minister of Foreign Affairs on the quote of FPO, simply serves as a proof to mutual understanding. FPO and Putin's party are also in the same boat on questions of opposition to same-sex marriages and strengthening of Christianity.
Kingdom of Belgium

"Flemish Interest" party ("Vlaams Belang", VB) — ultra-right party in Belgium, which advocates the Flemish Region independence, the limits on immigration, and for the preserving of "traditional Flemish values". They are the supporters of developing the cooperation with Russia in European Parliament.
Party's leader Tom Van Grieken stated: "I consider Vladimir Putin to be a perfect leader for his country. He is elected democratically, and he is suppoerted by the majority of the Russian population. More even, he protects the interests of his country. For example, historically Crimea is a part of Russia. Vladimir Putin simply restored the historic justice by bringing it back to Russia."
On the pseudo-elections of November 11th 2018 on the Russia-occupied territories of Eastern Ukraine, by the invitation of "People's Rupublics" a representatives of ultra-left and ultra-right parties from all Europe were serving as observers, including the members of "Flemish Interest" party.
Republic of Latvia

"Social Democratic Party 'Harmony'" ("Sociāldemokrātiskā Partija 'Saskaņa'", SDPS) — mostly consists of members of Russian origin. Party supports Latvia joining Auropean Union and NATO, but has a positive attitude towards the cooperation with Russia.
The former Yugoslav Republic of Macedonia

Political party "United Macedonia" ("Edinstvena Makedonija") — an opposition party of Macedonia.
Janko Bachev, the leader of party, doesn't hide the fact that the party's name is copied from "United Russia". The party logo almost identical to "United Russia", which a lion instead of bear depicted. Conference hall in the Bachev's office is decorated with Russian state flag, and he has a Russian hymn for the ringtone on his cellphone. "Our future is with Euro-Asian Union of Vladimir Putin, this is a much more fitting alliance than NATO", Bachev claims. He says that Russia attracts him with Orthodox Christianity and traditional values, and he is not worried that he's being called a Kremlin agent.
Leaders of the party state the support of course to strategic partnership with Moscow, citing that "Russian people, being Slavs, is close to Macedonians in mentality, language, culture, traditional values". They claim that only in the alliance with Russia the national interests of Macedonian people can be protected. Joining the Euro-Asian Union, which is promoted as an alternative to European Union, according to Bachev will secure the raising of living standards of Macedonian people, eradication of unemployment, and also obtaining of cheap energy and other natural resources.
Republic of Cyprus

One should not underestimate the Russian influence on Cyprus. When the government of former president Demetris Christofias was in a financial scrutiny, Moscow secured a multi-billion credit line, which still was unable to prevent the bank crisis of 2013, and many of Russians living on the island lost parts of their savings. Cyprus also sells its citizenship — according to the ones who don't have accounts in Cyprus banks. This is the way rich Russians buy themselves a Cyprus citizenships. One of the most famous fresh new Cyprus citizens is Russian oligarch Oleg Deripaska, who is in the inner circle of president Vladimir Putin.
У самурая нет цели, есть только путь. Мы боремся за объективную информацию.
Поддержите? Кнопки под статьей.