16:00 01.11.2018
Sergei Skripal and Spain
Part 2
Federal Security Service's Department of Hitmen
World community became aware of the existence of Federal Security Service's department in charge of in investigations and fight with organized crime in November 1998, when five of the department's agents called press conference to tell how the department is involved in extrajudicial killings. In particular, the agents claimed that security service administration planned a physical elimination of Boris Berezovsky.
Aside from this, agents told about the administration plans to "set straight" one of the officers, Mikhail Trepashkin, who recently resigned and got a job in the tax police ( https://www.bezzakonov.net/single-post/2017/10/01/0110011 ). According to the administration of the department in charge of in investigations and fight with organized crime, Trepashkin supposedly kept the security service ID to extort the local businessmen. That's why he must be "dealt with".
Both at the press conference and in interviews Alexander Litvinenko told that he was assigned the task of planning how he and his colleagues will deal with the former coworker. And "deal with" supposedly meant, to beat up.
Department in charge of in investigations and fight with organized crime of the Federal Security Service was formed in 1996, and initially was named the Department of Promising Programs. There's plenty of information about this department which can be accessed by public. Still, we know nothing about how this preserve of hitmen really functioned.
It must be noted that virtually every member of this department (Litvinenko included) had a military action experience in Chechnya. That means, killing, elimination was not something extraordinary for them. Apparently, the initial context of this department creation were the tasks of analytical and operational managing for Caucasus and Asian regions of Russian Federation and neighboring states. Especially considering the migration waves from these regions to Moscow and other crucial cities of Russia.
It was logical to some degree to appoint as a director of a department a Federal Security Service general Evgeni Grigorievich Khokholkov, who previously served in Uzbekistan KGB. His deputy was Alexander Konstantinovich Makarychev (http://www.agentura.ru/dossier/Russia/people/makarichev/?print=Y&fbclid=IwAR3ieZInRSBPnPW4kxI_oldaPYNxPVueyQ9KFru_zADySjf6af-_t7MHfJo). It was him who was overseeing the 7th department, the one which officers came to the press conference together with Litvinenko.
Approximately in the same period of time, or perhaps a little earlier, the rumors about "The White Arrow" appeared, a rumor about some secretive department of the Russian security service, which had a license to shoot gangsters and mob members.
But in fact, the task of this department were not just the gang members, or better say, not them at all. For a while media discussed if it is possible for departments like this to be involved into a killing of Anna Politkovskaya, and other journalists in Russia. (https://web.archive.org/web/20100204084444/http://www.novayagazeta.ru/data/2007/01/00.html)
From hitman to Russian politician
Of course you should not trust to articles in World Wide Web, especially since Russian troll factories turned it into a cesspool. But aside from anonymous publications, there are some signed documents.
Not long before his death (or in fact, not long before he should have had travelled to Spain to testify), Alexander Litvinenko met with some agents of Israel law enforcement, to give them information about Russian Federal Security Service criminal activities. (https://www.unian.net/politics/1243478-litvinenko-za-polgoda-do-smerti-obvinil-fsb-v-ubiystve-mera-nefteyuganska-otkryitaya-rossiya.html).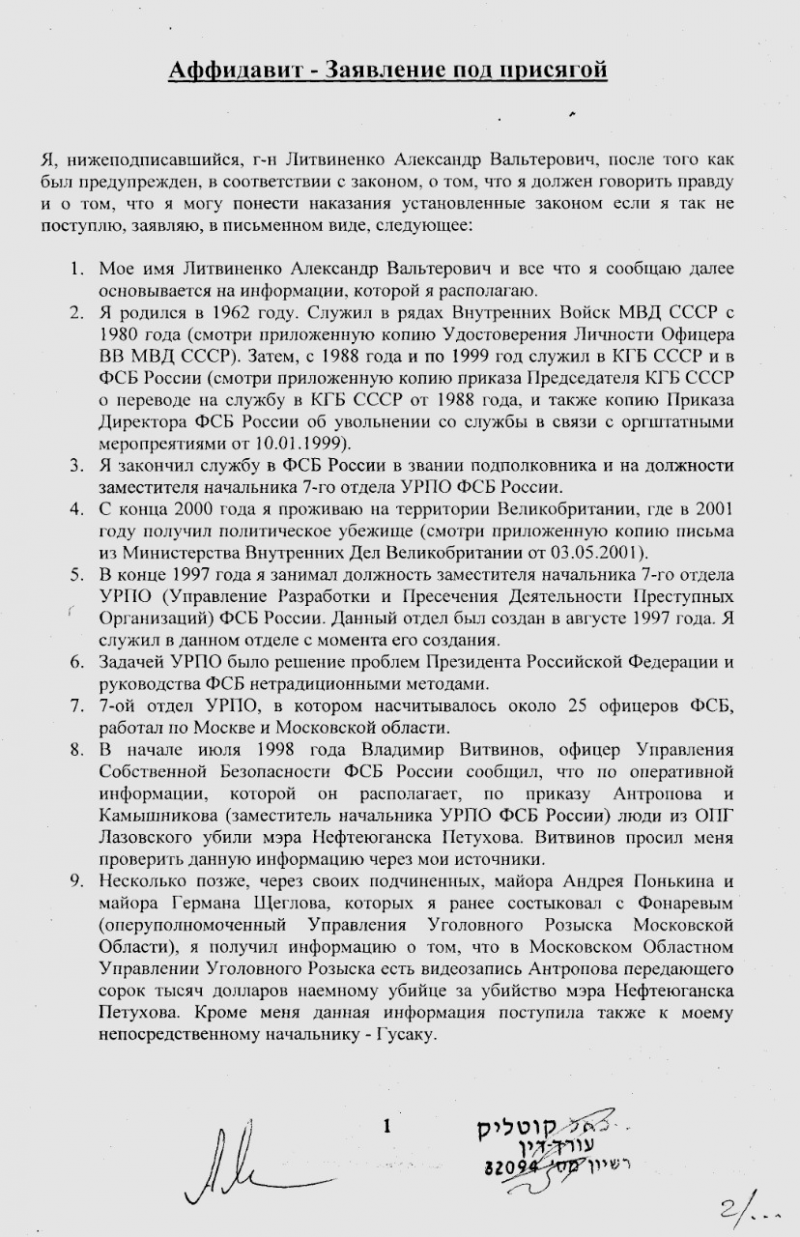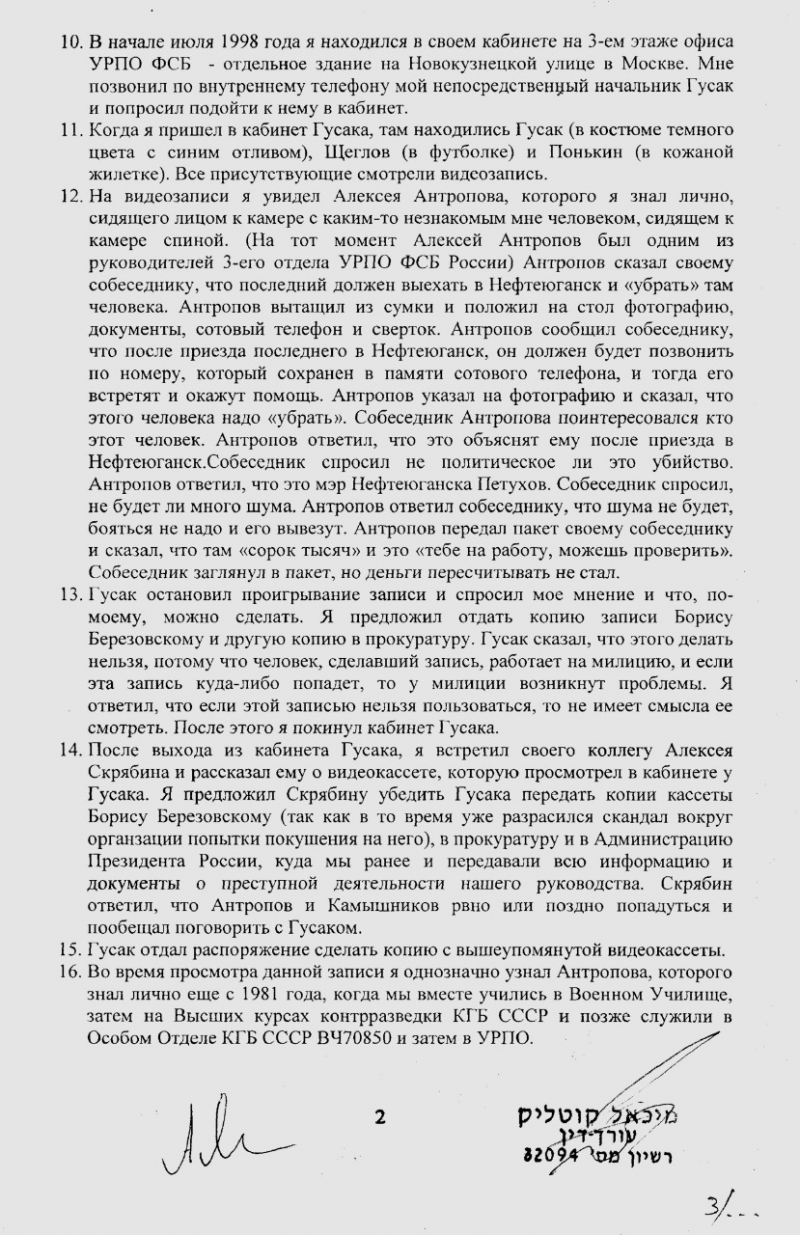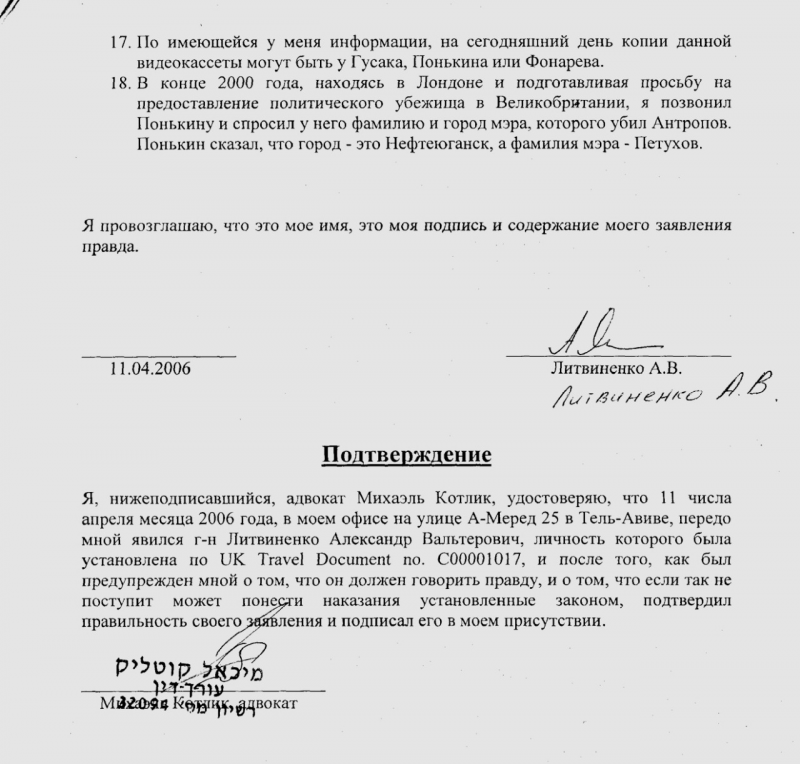 Alexey Klimovich Antropov, the head of the 3rd division of the Department in charge of in investigations and fight with organized crime of the Federal Security Service, is virtually the sole agent of the department who has a background in intelligence forces. He graduated the Academy of Foreign Intelligence, a well-known manpower source for the Soviet and Russian intelligence. He graduated the Russian Academy of Public Administration in 2007. From 2009 to 2014 he was in positions of deputy director general and chief security officer of Atomenergomash company.
In February 2014 Antropov became the deputy director in strategic affairs of Akkuyu Nuclear Power Plant, and simultaneously became a member of boards of directors of a few companies, all in the field of atomic energy.
Akkuyu Nuclear Power Plant is a Russian project in Turkey, a power plant built and financed for Russian money. After the incident with the Russian plane, which was shot down by Turkish military after trespassing of the border, the building of a plant was stopped, and the employees of the "Akkuyu Nuclear" got oral notifications of layoff, with no reasons or explanations.
Disgruntled employees of the project are willing to talk in web forums and social networks about how Antropov uses his post for enrichment, and they also remember to him his ordering of Nefteyugansk city mayor assassination.
Not only Antropov made it big after the service in the "Hitmen Department". Lieutenant general Yevgeni Khokholkov, a former head of the department, was in the top 10 of the "Russian Patriots" party candidates list during the State Duma elections in 2016. It scored 0.59% of the votes. In 2018 his party supported Vladimir Putin on the presidential elections. (https://www.youtube.com/watch?v=zRFyFwvnqSA )
We may assume that both the names of Antropov and Khokholkov, the hitmen from 90s, will be heard not once again.
President with a license to kill
Some international experts who study the activities of secret services, and one of them being the world-wide famous Mark Galeotti, said that the infinitely stupid and misplanned operation of Sergei Skripal's assassination is a kind of message from Vladimir Putin to the Western world. A kind of statement. "I can do anything I want in your countries. I can shot down plains, I can poison a person. And in case you have something against this, well, here's my nuclear rockets. If anything, I will go to Heaven."
We should not be under illusion that Putin is stupid. Instead, we should think of how he could profit from extremely complicated conflict between Yevgeny Primakov and Boris Berezovsky. It was Putin who managed to eliminate Alexander Litvinenko, who might have been more than just a source of information for the law enforcers of the civilized world, regarding assassinations, embezzlements, corruption and money laundering.
Apparently Sergei Skripal was a victim of narrow-minded hitmen, who felt they have an impunity. And he became their victim for an obvious reason, as he might have had a risk of disclosure of the criminal background of whole Russian political elite.
Unsolved murders of Vlad Listiev, Anna Politkovskaya, Boris Berezovsky, Oleg Lisin, Galina Starovoytova, Boris Nemtsov, Christophe de Margerie, and many others, they all play into the hand of Russian President.
In the meantime, Spanish court stops the 10-year-long investigation about money laundering for St. Petersburg gangs, which figurants most surely had business together with Sobchak-Putin mayor office. All while European leaders call for renewing relations with cold blooded killer and terrorism patron Vladimir Putin.
У самурая нет цели, есть только путь. Мы боремся за объективную информацию.
Поддержите? Кнопки под статьей.