16:00 18.11.2018
Russian Gas Noose on the European Neck
Nord Sream II is a good example of an attempt of Russian expansion into EU
By Hanna Detz
The question of natural gas is an important one for European Union — it is used for generation of more than 25% of electricity of total UE countries electricity demand. And as of now the demand is only going higher — in the July report the International Energy Agency predicted the increase of gas demand in Europe until 2023.
Even though US became a pure exporter of natural gas in 2017, this cannot quite solve the problem of fulfilling the demand of most EU countries. More even, there are prognoses of decrease in production of natural gas by the biggest gas producers in Northern Europe, which are Great Britain, Norway and Netherlands — all because of depletion of natural gas sources in Northern Sea. The extraction of natural gas in Netherlands will be shut in 10 years because of ecologic concerns. At the same time Germany plans to get rid of atomic energy plants and coal power dependence, which adds to the global warming.
Thus, Europe will be in constant demand of foreign natural gas supplies, since their own gas production shortens because of depletion of gas sources, while the demand goes up. By the estimates of European energy companies, in 2035 European Union might be in need of additional 107 billion m3 of natural gas, per year. And the big share of EU-consumed gas today is supplied by Russia. In 2017 year alone "Gazprom" supplied the European market with 193.9 billion m3 of natural gas, which is 8% than previous record of 2016. The share of Russian gas on European market is close to 35%, almost 60% share of market in Germany. "Gazprom" steadily grows its share on European market, since 23% in year 2010 up to 34.2% in year 2017. The biggest "Gazprom" client in EU is Germany (53.4 billion m3), while the fastest growing procuring countries are Turkey (+4.24 billion m3) and Austria (+40%).
Moscow has hopes on increasing their share even more. For this, "Gazprom" builds two new natural gas pipelines to Europe: a TurkStream (to serve the markets of Southern Europe through the Turkey and Greece), and a Nord Stream II (to supply the large European countries, Germany first of all).
The dependency of Europe from Russian gas is on the rise, and this fact cannot be ignored. First of all because the fuel is used by Kremlin not only as the main source of filling the budget, but also as a tool which Russian powers hope to use to secure the economical and geopolitical dominance of "Russian world" ideas at least in Europe, and perhaps someday — all across the world.
A good example of an attempt of Russian expansion into EU is a building of the Nord Stream II pipeline, which will run from Russia through the Baltic Sea floor to Germany. The length of the pipeline would be 1200 kilometers, the cost is 9.5 billion Euros (joint financed by "Gazprom" and five European companies).
"Gazprom" predicts that since the end of 2019 the gas pipeline Nord Stream II will transport approx. 55 billion m3 of Russian natural gas per year. That means, the amount of export to Germany will be effectively doubled.
Of course the Nord Stream II project for Russia is more a political than economical project. It will create an economic bastion in Germany, which Russia will later be able to use to create a political influence onto countries of Central and Eastern Europe. And we all know already how "Gazprom" can use the supply of natural gas to put pressure on the government of particular country.
For example, if the Nord Stream II pipeline will be put into operation, "Gazprom" can easily cut the supply to Slovakia, Poland and Hungary companies which now provide a reverse supply of Russian natural gas to Ukraine.
The threat of militarization of this pipeline is completely real. Because there are reasons to believe that Russia will try to use the pipeline as a zone for hosting the technics and equipment not connecting with gas transportation. As Russia already does in the area of annexed Crimea in Black Sea and Azov Sea, where right next to energy infrastructure a double-purpose objects appear, which are required by Russian military. Besides, such infrastructure object as a pipeline gives a chance to use it not only for examination purposes, but also to increase the intelligence potential in the region, for the industrial espionage, etc.
Seeing the overt flirtation of Vladimir Putin with Angela Merkel, we can easily see the end-goal of this new pipeline, which is to split the European Union from the inside, to give a glimmer of hope to Germany that using the gas pipeline it will be able to manipulate and to dictate its terms to other European countries. Imagine that with Nord Stream II Germany will get a leverage against other energy-dependent countries, because Merkel's say will decide whom to and on which price the Russian gas will be distributed in Europe.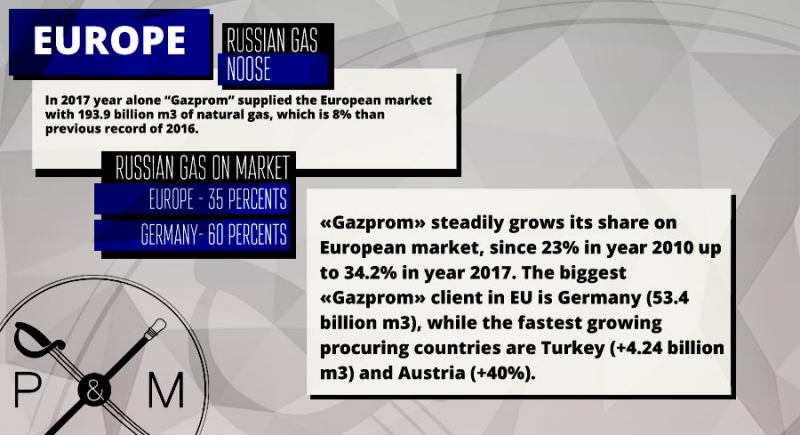 This is an appealing bait to the Merkel, who tries to position herself to an average German citizen as the most influent politician in Europe. And in the same time this hook is on the line in Putin's hands, who can loosen it or tighten it up. Or cut it off in a critical situation.
In fact, most of Merkel's achievements are connected to Vladimir Putin's name in one way or another, and the Russian natural gas import is not the last of them. About 50% of Germany's gas import is from Russia, while the rest comes from Norway and Netherlands.
Of course Merkel understands that her dialogue with Kremlin doesn't add to the number of her supporters in US and EU, but she cannot resist holding the post until 2021. And the election fail of Christian Democratic Union of Germany in Hesse speaks for itself: the electors will not forgive any more of gas supply shortages to Angela Merkel. An average German couldn't care less which country of origin has the gas which is burning in his kitchen stove.
Therefore, no matter that Germany has some intense internal discussions about cooperation with Russian Federation, which in fact made the political circles of the country to split, the public anti-Russian rhetoric of Merkel has more and more of declarative nature. Merkel, as an experienced politician, doesn't put all the eggs in one basket. Putin will hardly be happy with a strategic decision of Merkel's government to build an LGN terminal in the lands of Schleswig-Holstein. And when declaring this decision, Angela Merkel made it clear why this terminal is needed — on one side, to spare the country from growing dependence on Russia in terms of gas supply, and on the other side, this was a crucial concession to US President Donald Trumpm who tries to weaken Russian' positions and presence on the largest energy market in Europe. This is where Merkel comes as a conciliator in the long trade war between US and EU, and this is where she raises her rating of approval. In the same time, the growing amount of import of liquefied natural gas from US to Europe, to Germany in particular, must reconcile Trump and Merkel with the problem of Nord Stream II — which means, in the end this plays into a Putin's favor. Funny thing is, the big statement from Merkel has intensified the activity of Russian lobbyists in Germany. And Leif-Eric Holm, a fraction leader deputy of "Alternative for Germany" party, not only voiced strongly against the terminal project, but also made a demand to government to start the works on implementing the Nord Stream II project.
In a circumstances like this, it would naïve to expect that Angela Merkel will prioritize the energy safety of Ukraine over the economic interests of Germany. Though, a powerful opposition of US to Nord Stream II building is based not on preoccupation with European energetic independence or keeping the gas transit through Ukraine, but on the simple eagerness to sell the US liquefied natural gas to Europeans.
That's why during the Kyiv visit at November 1st 2018 Merkel made a diplomatic but firm statement about Germany's support for Nord Stream II construction. In the same time Merkel emphasized that Nord Stream II launching is directly connected with getting a guarantees to the project participants on preserving the status of transit country for Ukraine. Merkel assured that the negotiations on corresponding agreement are held between European Commission and Russian Federation.
As of today, the European Union is divided on the question of Nord Stream II: Germany, Finland and Sweden allowed for pipeline building on their territories, Denmark did not. Governments of Ukraine, Poland, Hungary, Moldova, Romania, Czech Republic, Slovakia, Latvia, Lithuania and Estonia consider Nord Stream II to be a threat to energetic safety of Europe. All in all we can conclude that Russian energy decisions were successful in the sense that they have sown the discord and uncertainty between the European citizens, and they can put Europe in a political dependence from Russia.
But considering the last stance of US President Donald Trump, who at September 18th stated that USA do not have plans to sanction the Western companies involved in gas pipeline building, the chances of pipeling building halting are quite slim, unfortunately.
In contrast to Germany, for Ukraine the building of Nord Stream Ii pipeline is a matter of national security, even though the economic aspect is important enough. A possible termination of gas transit through Ukraine will lead to economic shock and political destabilization in the country (the damages from the pipeline startup for Ukraine are estimated as 2 billion dollars per year).
It would be good to persuade Angela Merkel that Nord Stream II poses a threat to the countries of European Union, and the wise decision would be not to build the new pipeline bypassing Ukraine, but to invest into transit pipeline located on the territory of Ukraine. The argumentation is strong enough — no matter what decision would be on Nord Stream II, Ukraine stays to be one of the crucial transit paths to European Union, and has a huge potential to become one of the most important gas markets in the region. It is lucky that some influential politicians do understand this, such as Johannes Bauer, a first advisory and the head of operation department of EU office in Ukraine, who is sure that Ukraine might become one of the most important gas markets in the region, and an important part of energy market of European Union.
Sadly, todays' realities are against Ukraine. Despite the efforts of Ukrainian diplomats, government members, and President of Ukraine, Germany confirmed its intents to finish the Nord Stream II construction. At this moment the most important to Ukraine is for Washington, Berlin and Brussels to not renounce the guarantees of Russian gas transportation through Ukraine after Nord Stream Ii finishing, and to continue the gradual inclusion of Ukraine to energy market of European Union, especially since this would be an important element of the successful foreign energy politics of European Union.
Ukraine is the only country on today's European map which is not dependent from Russian gas. This leadership costs a lot, but it must be preserved.
У самурая нет цели, есть только путь. Мы боремся за объективную информацию.
Поддержите? Кнопки под статьей.