16:00 14.11.2018
Russian Empire Federation
Another puppet election on the Russian-occupied territories, which will not be recognized by a single civilized country in a world, completely fit the Vladimir Putin approved Vladislav Surkov's strategy for Ukraine.
Don't think this strategy suggests anything new, no, it will be implemented by the same people, in same ways and methods. It was Victor Medvedchuk who started it in the way of "Divide and conquer" back in 2013, who promoted the necessity of federalization of Ukraine, relying on a large scale billboard campaign all over the country, along with an army of well-fed "experts".
Now this set of theses became a general election campaign narrative "Peace for any cost!", which means a return of occupied Donbass territories under Ukrainian control, but only on the terms of Kremlin-controlled autonomy.
Thus, there will be no European integration or Euro-Atlantic processes in Ukraine, because of protests of autonomous subjects of the state. Instead, Kremlin will continue to act through his representatives in Ukrainian parliament. In addition to all this, all the expenses on restoration and rebuilding of the destroyed industrial region will be borne of Ukrainian taxpayers, though in bought-out media Donbass will "continue to feed Ukraine".
The most cynical of all in this plan is, while suggesting to Ukraine to let more authority and freedom to its regions, Kremlin does exactly the opposite.
The modern day Russia is a Federation only in name. In fact virtually all money from regions goes to Moscow, and then are redistributed. All political decisions are made in Moscow, while the local authorities are left responsible. Building a chain of command was something Putin started to do from the first year of his ruling. Let's revisit the main milestones on this way.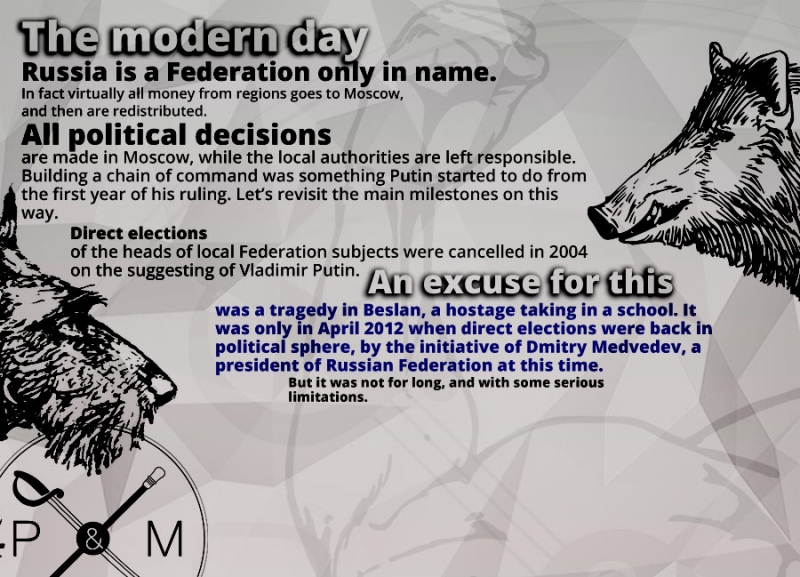 Direct elections of the heads of local Federation subjects were cancelled in 2004 on the suggesting of Vladimir Putin. An excuse for this was a tragedy in Beslan, a hostage taking in a school. It was only in April 2012 when direct elections were back in political sphere, by the initiative of Dmitry Medvedev, a president of Russian Federation at this time. But it was not for long, and with some serious limitations.
As soon as April 2013, by the initiative of Vladimir Putin, back in presidential chair, the law was amended, and according to them heads of Federation subjects could have been elected by subject parliaments, and by the presentation of president of Russia. But even in those regions where the direct elections persisted, there a kind of municipal filter exist: a candidate needs to collect the signatures from municipal deputies who represent all municipal districts of this particular subject of federation. Which is simply not possible without the mandate from "United Russia" party.
Everyone remembers Alexei Navalny running for mayor of Moscow, when the signatures of municipal deputies he was in need of were provided by the representatives of "United Russia" party. It works the same throughout the country. The law abides one to collect signatures of 5 to 10 percent of municipal deputies of particular federation subject. (The exact percent is defined by a local regulations.) But these signatures must be collected from no less than 75% municipal districts.
That's where the main catch is. Even in Moscow and St. Petersburg the opposition cannot win over these 75%. What would you expect in province…
But the presidential administration has another safeguard, that would be federal management of political parties. How exactly this works? In Primorsky Krai Communist Party of the Russian Federation decided against their candidate running elections, even though that would-be candidate Ischenko's current rating of approval was two times as high as the rating of acting governor Kozhemiako. Still, Communist Party claimed that their candidate wouldn't be able to get over the municipal filter anyway. Quite a weak excuse for the parliament party. Perhaps it is worth to disband then?
Basically, the building of Putin's chain of command were carried out first of all by stripping all regional elites of any political and economic leverages. For the citizens it was presented under the cover of "fight against separatism", but in fact it was a simple removal of all possible opponents in a fight for power. Tactically it was worth it. But from the strategic point of view…
Today's Russian government is a kind of Byzantine court with all kinds of clans and intrigues and the fight for the place of heir. And the worse the economic situation is in the country, the worse the fight of clans become. And the war is everywhere, both in Moscow and in regions. Whether regions may revolt against the dictatorship of Moscow is another interesting question.
Until recently it appeared that Russian regions sleep tight, akin to a fairytale Sleeping Beauty who pricked her finger on the spindle of a spinning wheel. Even when Moscow refused to sign new agreement on separation of powers with Tatrstan in 2017, there were no protests worth of notion. Regional elites were forced to silently swallow this sign of Moscow's defiance. And Kremlin thought that this situation is cemented forever. But September 2018 proved otherwise.
At September 9th 2016 candidates from "United Russia" were unable to win first round of governor elections in four regions (Primorsky Krai, Khabarovsk Krai, Khakassia and Vladimir Oblast). In last 12 years this is the first loss of the "United Russia", the ruling party. Both federal and local governments were completely not prepared to something like this. Local powers tried to falsify the election results. But this was something not accounted for by the system build by a presidential administration department of home affairs.
Sergey Kiriyenko, who is the head of this department, relied on relatively honest vote count. That's why Ella Pamfilova was appointed to be a head of Central Election Commission of Russia. Andthat's why Kremlin was forced to cancel the falsified elections results in Primorsky Krai. Of course it is too early to say that people voted for alternative. It was a protest voting. And it was a result of whole number of different factors.
More and more citizens of Russia can feel the economic crisis, which was caused by a western sanctions. And they feel it in their own wallets, while the initial euphoria of Crimea annexing is long gone. But perhaps the turning point of people's attitude towards not only the government but towards Putin himself, was a pension reform. It is suddenly become clear that Russians are not forgetful idiots the Kremlin used to perceive them.
It became clear that everyone remembers Putin's promises not to raise the retirement age in the course of his presidential term, and this blatant lie not only crushed his ratings, but led to the ruling party's defeat in the regional elections in Primorsky Krai, Khabarovsk Krai, Khakassia and Vladimir Oblast. "United Russia" lost in every region where the two rounds of election were held. And the voter turnout on the second round of election was 10% higher than on first round. That means, people came to vote to tell the rulers to get lost. And though Khabarovsk Krai and Vladimir Oblast elections are considered to be certified, Primorsky Krai and Khakassia are far from the end of this.
New elections in Primorsky Krai are set to be held at December 16th. Government was forced to change their candidate. Tarasenko, who managed not only to lose elections, but also to be caught red-handed falsifying them, will be replaced by Oleg Kozhemiako, who was heading Sakhalin Oblast before. To win elections he was allowed the unprecedented amounts of criticizing Moscow.
And yet even this doesn't guarantee his win. That's why Kremlin made a decision to simply remove candidate Ischenko from the runs. Local office of Communist Party played the role of Moscow hand, simply not nominating the candidate. Another proof to the fact that Russian law "Of political parties" makes the existence of real opposition simply impossible. Simply because all the political parties are integrated in the chain of command, and the decision about registrations are made in the presidential administration.
Nevertheless, Primorsky Krai keeps being a headache for Moscow. It is some time now that people of the Russian Far East think of Moscow more as of a burden than of a country's center. And after all this six-month-long comedy with elections, and after all the anti-Moscow rhetoric of Kozhemiako, the task of his clean election can be solved, but what about the ability to actually manage the region?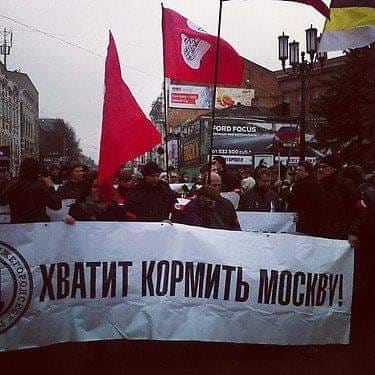 In Khakassia, where elections have been re-scheduled twice already, Kremlin plays another scenario. First the acting governor Zimin withdrew himself from elections. Then another candidate did the same, the one finishing on the third place on September 9th. Still, Moscow was unable to secure the withdrawal of candidate Konovalov. That's why they bet on bad press instead.
For example, in a period from October 31st to November 3rd four of central TV channels aired ten stories about Khakassia elections. All of these were covering candidate Konovalov in a negative light. Because the vallot papers will only have one name in them, they will feature "For" and "Against" across of the name. Let us remind you that the option "Against everyone" was abolished by the decision of State Duma in 2006. Now the return of this option is welcomed by approximately 43% of voters, according to some polls.
Thus, Konovalov, as the only candidate on elections, must get over 50% of the votes. At September 9th Konovalov got 45% of votes, while the acting governor Zimin hot 32%. Can the one win against all? We will see in few days. The separate story is — who are the people behind the Konovalov. Konovalov's campaign was financed by a "Rutec" holding, affiliated with a former State Duma deputy Gleb Khor. That's why some experts suggested that Khakassia elections is a fight of State Duma speaker Volodin against the Kirienko from presidential administration, with Volodin trying to shake the Kirienko's positions.
The elections of September showed in a clear light how high is the degree of tensions between regions and center, and how little center understands this fact. But even more than a lost elections, Kremlin was scared by the things happening in Ingushetia.
At October 4th the parliament of Ingushetia had ratified the agreement of change of boundaries, signed by the heads of Ingushetia and Chechnya. Immediately after this protest actions started. Local OMON (special police units) not only refused to disperse the protests, but also refused to let the federal task forces to pass. Federal government had no option but to authorize the protest meetings.
A Moscow commission came to Magas to try and settle the conflict. In the end the Constitutional Court found the border agreement signed by Yevkurov and Kadyrov to be constitutionally unlawful. Apprently, that's the end of the story for now. These events undermined a lot the authority of Ingushetia head Yunus-bek Yevkurov. But it also ruined the ambitions of Ramzan Kadyrov of his authority over the whole region. Will this lead to Yevkurov resigning, even though he was re-elected for another term in September? Or will Kremlin suffice with changing the heads of security and law enforcement? We can only say that Moscow is definitely loses control over regions.
There is another interesting case in St. Petersburg. Though the governor elections will be held in autumn 2019, but the casting probes for candidates both from ruling party and from opposition happens right now. More even, a set of amendments to election law are being prepared, which will make it possible to take part in elections not only to candidates from political parties, but also to self-delegated candidates. And this is also a result of government candidates losing elections. On the next elections they will be running as independent candidates, not as "United Russia" candidates.
All this tells us that the erosion of the chain of command, so patiently created by Putin, is already happening. As much as he doesn't want to believe this, being busy waging war on the frontiers.
У самурая нет цели, есть только путь. Мы боремся за объективную информацию.
Поддержите? Кнопки под статьей.