14:23 21.12.2018
Hello to Arms III: The Useful Idiots
This is not a script for the "Lord of War" movie, this is Western press accusing Ukraine of unscrupulous weapons trade. But it is journalists who are unscrupulous in this case.
There never were much of a trust in the international transferring of weapons. The suppliers always could provide both sides of the conflict with weaponry, and wouldn't care about which side would win. And since mostly a situations like this had its place in the less than prosperous regions of the world, noone cared much. Except of journalists…
These fearless people, often under threat of death, gathered evidence of crimes against humanity and humankind. Just remember the reports from Rwanda, where the genocide was about to start. But that was long. As of now, the level of trust to the journalists is close to a zero, about the level of trust for the weapon traders. As — just as in the world of weapon trade — everything can be bought and sold in the media world now.
And it may not even be counted as a bribe, merely as a match of the interests. Good documents, acquired by Russian special forces through the hacking of e-mail accounts of Ukrainian weapon exporter companies, can be transferred to the "honest" journalists under a good pretext. And the journalists, in their turn, will "honestly" publish these documents, wishing for nothing but the peace all over the world, and believing a good case. When we speak of weapon trade, we speak of war. Not only a "real" war, but a trade war, an informational war. And war has no place for mercy. Whoever is armed better, will come off being right.
The task of intelligence services is to harm the enemy, including their reputation on the international level. And the task of journalists is to publish hot stories. Journalists do not necessary need to be someone's agent to publish the inside source documents, keeping well within their rights — even if those will harm the national security and the reputation of the country. Everyone is simply doing his job.
Once the editor of American BuzzFeed decided for publishing the famous "Trump dossier", proved by noone, where one of the paragraphs told of St. Petersburg prostitutes, whom Trump made to piss on the bed where supposedly Barak and Michelle Obama slept once.
Later, when he was asked to explain the reasons why he did spread a nonsense like this, having no sources which would proof the dossier in full, or even parts of it, he came up with a proud open letter of how he is serving the society, and it's not his job to make decisions of credibility of information, but the job of society. Let the society to decide, whether or not to believe the information spread by a media.
Most of the journalists all over the world use a philosophic equilibristic like this to justify their actions. Some do this for money, some do this for fame. And they bear no responsibility for anything like this. And if someone would be so careless as to doubt their rightness or professionalism, that someone would be immediately blamed to advocate for one of the sides. It's a vicious circle.
In last four years Western media took a large part in spreading the Russian narratives which had to do with accusations of Ukraine in the unscrupulous supply of weapons. In November of 2016 the Agency France Press published an untitled story of Ukraine supplying the Chinese-made man-portable air-defense systems to the ISIL terrorists.
William Broad and David Sanger from The New York Times published an accusations of supplying the rocket engines to the North Korea. Journalist Graham Stack, who lives in Kyiv since 2007 and writes for different media, in the same day with Amnesty International published, by his very own words a leaked data of supposed supplies of Ukrainian weapons to South Sudan.
The funny fact was, the data of Amnesty International and Graham Stack were almost identical. It is not quite clear who cheat off from whom. Judging from the documents published, the information was acquired from the hacked e-mail account. Of course, the data was leaked gradually, so to not expose the circumstances of how it was acquired. Graham was more detailed, and provided the facts supplied by photographs. Amnesty International, on the contrary, tried to provide more information without exposing the proofs or the photo copies of contracts.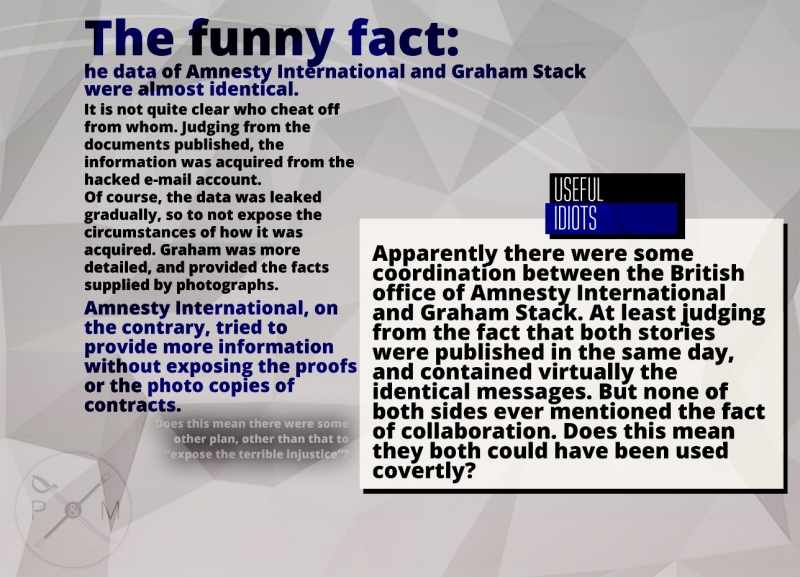 Apparently there were some coordination between the British office of Amnesty International and Graham Stack. At least judging from the fact that both stories were published in the same day, and contained virtually the identical messages. But none of both sides ever mentioned the fact of collaboration. Does this mean they both could have been used covertly? Does this mean there were some other plan, other than that to "expose the terrible injustice"? An interesting fact: it seems that Ukrainian office of Amnesty International were not even aware of the events, but was forced to visit TV and radio programs to back up the story of their colleagues, virtually having no knowledge of the story published. People simply repeated the limited number of messages they were presented with.
At the same time, Graham Stack, despite the large scale resonance of investigation like this and his 10-year-long history of living in Kyiv (which no doubt allowed him to make different connections), never appeared in any Kyiv media with a commentary of his investigation. Again, not quite clear, why?
Hurriyet Daily News informed that in the Turkish port of Zonguldak a supposedly Ukrainian cargo was arrested, with details and parts of Russian anti-tank rockets 9L111 Fagot and 9K113 Konkurs. The arrested on the board of ship citizen of Iran confessed that he tried to deliver the cargo to Iran.
For each of these cases a reader can find a detailed analysis in the open sources, but who has a time for this? Try to guess the average reaction of Ukrainian journalists and activists on yet another accusation of Ukraine in the unlawful supplies of weapons? You got it, the first thing which will be said will be: "Let the Ukrainian side conduct a thorough investigation in the Ministry of Defense and affiliated structures". The question of relevancy of journalists' data will not be even asked.
There is no doubt that the reason for this is the infamous lack of trust to the government and its structures. But when we talk about the common sense — you should not trust to anyone, you simply need to be unbiased in the judgment. Because the credibility and integrity of journalists (including those abroad) were compromised not once now, and this is a practice stretching for dozens of years.
At October 7th 2008 BBC published a document, supposedly exposing Ukraine for the tanks of the "Faina" ship captured by the Somali pirates were intended not for Kenya (as was stated) but for South Sudan.
Later it became known, that the GOSS abbreviation, which journalists interpreted as a "Government of South Sudan" in fact meant "General Ordnance and Security Supplies" — a logistic division of Kenya Ministry of Defense.
ON the background of such diverse and "professional" attention of international journalists to Ukraine, for reasons unknown any "weapon issues" connected to Russian Federation are simply ignored.
For example, the fact that Russia supplies Kurdish rebels with weapons. This became known when in February 2018 in Internet the videos were published of Turkish military joined by the fighters of Free Syrian Army intercepting the truck filled weapons and ammo, intended for Kurdish "People's Protection Units". The truck made its way to Afrin (on the north-west of Syria) which at that time was controlled by Kurdish military units. Video camera fixated the RPG-7 grenade launchers and the rockets for anti-tank rocket launchers "Fagot", "Metis-M" and "Konkurs". Noone but Russian Federation produces and uses a weaponry like this.
Instead of investigating the connection of supplies with Russian Ministry of Defense, or Yevgeny Prigozhin's PMC "Wagner" units, journalists stubbornly tried to connect Kurds with Ukraine.
The story of weapon supply for South Sudan is even more prosaic. You need merely to Google a bit, to come up with a balanced out story. But of course it is easier to simply copy and paste the biased investigations.
At August 19th 2013 the web site of "Rostekhnologii" company published the information that "JSC Rosoboronexport" (which trades the weapons all over the world) signed in 2011 and fulfilled in 2012 a contract of supplying Sudan with twelve Mil Mi-24 and six Mil Mi-8 helicopter gunships.
Sudan buys the weapons from Belarus, which in the duration of 2008-2010 supplied Sudan with twelve Sukhoi Su-25 and three Su-25UB air support aircrafts. There were negotiations of purchasing of eighteen Su-30K, owned by "Irkut" company, which were stored on the aircraft repair factory in Belarus.
Earlier, the United Nations Security Council approved the resolution forbidding Sudan to use the air forces in Darfur, where the prolonged inter-ethnic conflict has a place. The UN Security Council head of committee Maria Cristina Perceval sent an official letter to Security Council, that according to her information a total of eight Mi-24 aircrafts were supplied to Sudan. But according to Russian Ministry of Defense this doesn't mean much, and does not contradict to resolutions of UN Security Council, as Sudan "provided its obligations of not using this weaponry in Darfur".
The story of supplying weapons to this region is a classic illustration, of how Viktor Bout, one of the most famous and cynical intermediaries on the world weapons market (luckily, a former intermediary), is a real face of Russia on the weapons market. Because in the Sudan conflict Kremlin supplies both sides with weapons, and recently sent its mercenaries from the PMC "Wagner" there.
We mentioned the supplies to Sudan earlier. And into the South Sudan the Russian weapons are supplied through Uganda. In 2012 Russia supplied Uganda with six Sukhoi Su-30MK2, on the total sum of 740 million USD. After that the Russian VTB Bank together with the "JSC Rosoboronexport" came up with a special scheme for Ugandian government.
Russian bank opens the credit line for the Ministry of Defense of Uganda, on the sum of 170 million dollars. With these funds, Ugandans were supposed to purchase the old Soviet-era weaponry from Moscow, most of which would have ended in South Sudan. This schemes were covered by a few Ugandan media. Some of these stories were deleted later, but are still accessible through the archive.org website.
And still, instead of obvious things, such as a constant violation of international laws by Russia, everyone prefer to look for a black Ukrainian cat in the dark Ukrainian room — without any cat there in a first place.
У самурая нет цели, есть только путь. Мы боремся за объективную информацию.
Поддержите? Кнопки под статьей.