10:44 11.12.2018
Hello to Arms
A dashing "high five" of Vladimir Putin meeting crown prince of Saudi Arabia Mohammad bin Salman during the G20 summit, in the same time as the rest of leaders of world superpowers shun him away because of the toxic case of murdered journalist Jamal Khashoggi — this is nothing but Putin's realization of a fact that he should learn to live under sanctions, while still in need of foreign exchange earnings from military contracts. Even with all his brave face of "de-dollarisation" and "import substitution".
Saudis are the true and dependable buyers of Russian military junk which they later stuck in any place of Near East they deem worthy of it. The only problem remains. World community and Americans will do nothing to Saudis, as values are important, but oil prices are oil prices. But Moscow is another story. Russian weaponry supplied with PMC Wagner members and other "green people" falling in a hands of combatants all throughout the world is something which makes western intelligence services feel uneasy. So to feel himself safe and comfy, Putin needs a cover-up operation, so that in case of escalation of military threats in the hot spots he could point to the scapegoat, which, traditionally, would be Ukraine.
The same story is with the activity of Russian intelligence and FSB on the supporting on their positions in the controlled groups connected to Islamic State (ISIL), which they create since 2013. Few years ago ISIL fighters captured a few Russians which were later accused in espionage. Naturally, those have been executed, first recording their confessions onto camera. Or, a staged execution was shown, which is also possible.
But after few of such demarches, apparently some kind of status quo was found, and GRU and Russian military intelligence continued their work. Infiltration of agents into the terrorist groups of Near East is virtually absolutely necessary for Kremlin. At least because lots of people from Dagestan, Chechnya and other members of Caucasian regions which practice Islam volunteer to travel and take part in the "sacred jihad", and also make some money, while they are not preparing the bombings in USA (i. e. Boston Marathon bombings, for which brothers Dzhokhar and Tamerlan Tsarnaev were convicted).
These are the reasons why Kremlin is actively involved into the connections with terrorist groups, and why it needs a smoke screen from blaming of others, to continue what they doing behind it. But sooner or later it comes to a light, and the infamous Viktor Bout (one of the most prominent Russian arms dealers) finds himself sitting in American jail since 2008, convicted to 25 years for the illegal arms trafficking.
The Smoke Without a Fire
To create such smoke screen Kremlin, as always, tries to use Ukraine. The last strike against the international reputation of Kyiv in the sphere of international arms transfers were performed in the early September 2018.
The main voices of Russian propaganda ("Russia Today" and "RIA Novosti") informed that the first secretary of the Department of foreign relations of Syrian Ministry of Foreign Relations Ala Din Said Hamdan stated that USA and its allies supply the terrorist organizations with weapons, in particular through the third countries such as Ukraine.
According to the representative of Syrian Ministry of foreign affairs, Americans use the countries of Eastern Europe, Balkan countries, "and in particular, Ukraine to supply the Al-Nusra Front and ISIL with weapons". Of course, Ala Din Said Hamdan emphasized Ukraine in his statement, aside to the other countries unnamed, with a reason.
Two years have passed since virtually the same charade (but more intricate one) was played in Kuwait, perhaps with the involvement of Ministry of internal affairs or its representatives. Back then, the journalists of Kuwait news agency and Agency France Press was spreading the statement that terrorists captured by Kuwait law enforcers testified that Chinese-manufactured portable air defense systems FN-6 were received by ISIL groups from Ukrainian agents. Through the smuggling across Turkey.
After some time Agency Press France deleted these articles from all their online platforms (including the news aggregator Yahoo), but noone even thought of making formal apologies to Ukraine.
It so happened that a year before that, in October of 2015, a news photographer of the same AFP made a report for Daily Mail of how Chinese air defense systems FN-6 (is this a coincidence?) were supplied to ISIL terrorist groups from Sudan, smuggled through Turkey (a coincidence again?).
There is little doubt in the fact that Russian special forces see little difference between USA and Ukraine in their work. Better to say, they consider Ukraine to be merely a provider of USA will. Thus the statement of the Syrian diplomat (a text of which was written in Kremlin) we can only characterize with a term from video game: KOMBO HIT! "Americans supply terrorists with weapons with the hands of Ukrainians."
We must remind that Kremlin stated, and not once, that Russian aerospace and land forces already defeated all the terrorists in Syria and Iraq. Sometimes (as were with the capture of Palmira), they defeated them more than once. But the occasional "leftovers", with supposedly American weapons, supposedly supplied through Ukraine, just keep coming out of nowhere.
The Near East trump card of Syria is critical for Putin, as a device of raising the rates in the game with West and USA. It is well known, that peace in Damask is very important for Washington, Berlin and Paris, and for numerous reasons. The stability on the Near East is: an easily forecasted price on oil, the reduction of number of refugees, and many other things which many people are interested in. But with a leverage that can control the degree of tensions in the region, Putin constantly shows to West that he has an ace in his hole, so that he would have a room to maneuver in the Ukrainian question.
World media wrote not once about the projects (https://www.newyorker.com/news/news-desk/israeli-saudi-and-emirati-officials-privately-pushed-for-trump-to-strike-a-grand-bargain-with-putin) of trading Syria for Ukraine, which were discussed and prepared on the highest levels. It is because of these serious publications why you cannot perceive such gambit as a pure conspiracy.
That's why Russian side is interested in heating up the mistrust in honesty and reliability of Ukraine in the sphere of arms trade. That helps to ensure that in a critical moment world community will turn away from Ukraine and will overlook the military aggression of Kremiln.
The saddest fact is that world media and non-government organizations often help Kremlin in this. Recently Deutsche Welle published an article of Uganda's role (https://www.dw.com/en/ugandas-double-game-in-south-sudan-civil-war-revealed/a-46500925) in the long term civil war in Southern Sudan.
Authors of the article of this established media claim that while being, on a public, one of contributors to the peace process in neighboring South Sudan, in fact Uganda also is one of the biggest suppliers of weapons to the region, with this helping to maintain the active phase of conflict. And right in the introduction to the article, authors claim that the source of weapons are European Union, USA and China.
According to some international reports, multi-year conflict already cost up to 380 000 lives. And Uganda and Sudan might be supplying with weapons both sides of the conflict: Sudan People's Liberation Movement and Sudan People's Liberation Movement-in-Opposition.
Journalists back their claims with the report of Conflict Armament Research (http://www.conflictarm.com/) (CAR), which states that Uganda buys weapons from EU countries (Bulgaria, Romania and Slovakia), after which it transfers weapons to South Sudan, which is a gross violation of the rule of "end user" of international weapons trade.
According to Michael Lewis (a head of the department of CAR regional operations), South Sudan buys Bulgarian weapons and asks Uganda (for some fee) to provide a documents of "end user", for this deal be legal. The same is with Chinese weaponry, which Juba (Uganda) purchases, which are later used by both sides of conflict in South Sudan.
In July of 2018, United Nations Security Council imposed an embargo on arms trading with South Sudan. Almost after five years since president Salva Kiir Mayardit accused his vice president Riek Machar on attempts to take power (South Sudan became independent from Sudan on July 9th 2011).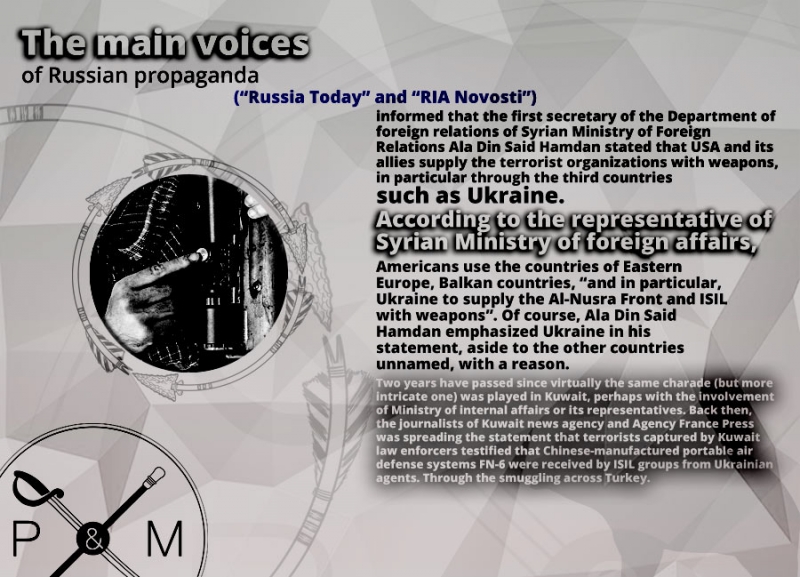 Of course every involved deny everything. The deputy minister of defense of Uganda Charles Okello Engola said that he has nothing to do with the accusations, and Uganda doesn't even have a way to conduct such transfers. The same is claimed by the representative of South Sudam. A former vice president Riek Machar though confirms the weapon supplies from Uganda to Sudan People's Liberation Movement-in-Opposition, in the time of their fight for independency from Sudan.
It is very hard to understand who tells the truth and who lies about the sustaining of long-term conflict in this African country. More even since western researchers choose to ignore the Russian involvement in these processes. And then happens not for a first time.
Few reports (https://www.amnesty.org/en/latest/news/2017/09/uk-amnesty-exposes-illicit-us-46m-south-sudan-arms-deal-brokered-under-governments-nose/) of Amnesty International which were amazingly published almost simultaneously with publications (https://www.occrp.org/en/investigations/7070-documents-show-arms-network-skirted-eu-embargoes) of Graham Stack, an OCCRP journalist who works in Ukraine. While analyzing the documents one can establish that both are based on the information leaked from Ukrainian companies. Perhaps on the information from the same e-mail account.
Both reports accuse Ukraine of supplying of firearms to Khartoum at the moment when international embrago was not yet introduced, which makes all these accusations null and void from the legal standpoint.
In other words, a topic of arms trade involving Uganda and the civil conflict in South Sudan is covered by a media time to time. But for a mysterious reasons, not a single investigation mentions the role of Kremlin in this story.
This should be fixed.
Kremlin's Uganda Contracts
Perhaps we should start with the fact that the UN report (http://www.un.org/ga/search/view_doc.asp?symbol=S/2015/656&referer=) from August 21st 2015 deatures documents and photos of firearms and Mil Mi-24 helicopters of different modifications. And in three months after that, a journalist investigation appears at "The Independent" online media of Uganda, which now can only be accessed in the Internet archive (https://web.archive.org/web/20151210105211/https:/www.independent.co.ug/cover-story/10831-uganda-in-chopper-saga-again), because for some reason it was deleted from the media web site.
The article starts like this:
"Uganda is again under the UN investigation in connection with the suspicion in purchasing the weaponry from Russia, including four helicopters Mi-24, which ended in the possession of South Sudan government. Proofs state that Uganda might have had bypassed parliament objections and to secure a credit of $170 million to finance the deal."
This is true. As African web resource chimpreports.com  informed at Gebruary 25th 2015, the Ministry of finances of Uganda addressed a parliament committee of economics and finances with a request for approval of loan in some "Russian bank" of 170 million USD (484.5 billion of Uganda shillings) for a purchasing of "secret" weaponry from "Rosoboronexport". A "secret" weaponry is stated as "tanks and guns". It is mentioned that members of parliament committee was "shocked" by this requests (as Uganda parliament just recently secured exceptional provisions for defense in 2014-2015 financial year), and they expressed a serious discontent in the preliminary discussion of this question at February 25th. But it is assumed that parliament members did not oppose too much, as it is evident that this requesti was approved by Yoweri Museveni, a president of Uganda.
The sources in Kampala informed the web resource that Ugandian Ministry of Defense entered the negotiations with "Rosoboronexport" regarding the purchasing of mentioned weaponry in the middle of 2014, and by the end of 2014 sides negotiated all the parameters of the contract, and the only thing left is the approval on the side of Uganda; and the providing of the loan is also negotiated by both sides.
As Russian sources informed (https://iz.ru/news/548341), the unnamed Russian bank was "VTB Bank", and the story of the loan is drugged since April of 2013: "Bank is ready to provide the loan to Uganda for purchasing of Russian military technics. Representatives of the bank joined by the employees of "Rosoboronexport" plan to visit Uganda in the near future to negotiate the conditions. This is not the first such experience for VTB Bank — in past year the bank took part in the financing of Angola purchasing of Russian weaponry. More deals with other countries of African regions are to be coming — said the source in the bank."
Of course details like this did not interest neither OCCRP nor Amnesty International. And if they had some hidden motivation in their reports, they should not have been interested.
Apparently, most of this (or a large part of) weaponry purchased with this loan were intended (https://bmpd.livejournal.com/1620482.html) for the government of South Sudan. Four Mi-24 helicopters (of Mi-24V and Mi-24K modifications), spotted in the August of 2015 in the airport of Juba, the capital of South Sudan, bearing the insignia of government Sudan People's Liberation Movement. As a payment for mentioned four Mi-24 helicopters, Ministry of Defense of South Sudan transferred 40 million Euros, in two tranches in March and April of 2015, through the Kampala-located Commercial Bank of Africa, controlled by a family of current Kenia president Uhuru Muigai Kenyatta. Some payment documents were signed by South Sudan Minister of Defense Kuol Manyang Juuk.

If you connect all these cases of accusations against Ukraine, an interesting picture forms.
Syrian diplomat accuses Ukraine in the supplying of terrorists with weapons, while Syria is stuffed with Russian weaponry. Western media (referring the Kuwait Ministry of foreign affairs) accuses Ukraine in supplying Syrian ISIL with Chinese weapons, while there's not much secrets about involvement of Russian special forces in this region. International activists and journalist organizations accuse Ukraine in weapon trade with South Sudan, not noticing that Russia supplies it with weapons through Uganda, for hundreds of millions dollars.
In addition, the journalist's articles of these stories on the pages of AFP and Ugandian "The Independent" appear to be deleted…
A coincidence?
У самурая нет цели, есть только путь. Мы боремся за объективную информацию.
Поддержите? Кнопки под статьей.