16:00 19.11.2018
A Soft Power of the Iron Boot
What is Kremlin "soft power" and how it works in Ukraine and abroad.
Recently Vladimir Putin visited the Singapore. His visit was marked with a number of scandalous situations and embarrassments around the "esteemed visitor" from Moscow. The whole world was watching as metal detector did his best to give a warning to the receiving country.
At the same time, a number of popular Telegram channels (which already became an important tool in Kremlin internal quarrels) spread information about how Singapore needs a "Russian Culture Center", addition to all others growing everywhere from Iceland to unrecognized Donetsk People's Republic.
The validity of the source, of course, leaves much to desire. A mass funding of Telegram channels from Russian Presidential Administration and all those groups fighting for the right of access to Putin, started in April-May of 2017. Approximately in the same time as Telegram creator Pavel Durov experienced a pressure from Russian Federal Security Service and "Roskomnadzor" regulator. There are some who are still sure that the fight between a liberal businessman and Russian security forces was nothing but a show to attract wide masses onto Telegram platform.
No surprises here. At that time some Telegram channels were discussed and quoted even on the national Russian TV — using the heavy artillery, to say so. To give an example, as of today, the channel "Nezygar" (which may or may not have changed his owner few times since then) is read by 180 000 people. Which is more than an audience of quite a few traditional media. With nearly zero-expense on its maintenance.
Still, the information of another round of investing into the instruments of "soft power" by the Kremlin is interesting, and deserves some attention. Vladimir Putin did even lay a cornerstone into the foundation of Russian Cultural Center and a cathedral of Russian Orthodox Church in Singapore (yes, those Russian priests learned to hide there as well).
Some anonymous sources claimed that the initiator of upgrade like this was Sergey Lavrov, which post suggests that he supervises everything connected to "Rossotrudnichestvo" (Federal Agency for the Commonwealth of Independent States, Compatriots Living Abroad and International Humanitarian Cooperation), which serves as a "public diplomacy", or "soft power" tool for the Russian Ministry of Foreign Affairs.
It is well known, that the US is an undisputed world champion in "soft power". Just because such sphere requires a lot of money and resources, and US can afford this. But also because of the American's elegant decision to spread the stars-and-stripe interests through the power of Hollywood and financial magnate George Soros.
Apparently, Soros' fame and fortune make Sergey Lavrov envious. That's why he suggested to Vladimir Putin a new concept of spreading the Russian influence through the non-military solutions. Because people like Sergey Shoygu (Minister of Defence of the Russian Federation) or Yevgeny Prigozhin (linked to a private military company known as Wagner Group) may be welcomed perhaps only in Syria or Central African Republic. They are not quite fit to be welcomed in civilized countries.
According to the same untrustworthy Telegram channels, the Russian Cultural Center in Singapore alone will enjoy with over 500 million USD of investments. Considering the fact that "Rossotrudnichestvo" officially has over 74 offices in 62 countries, Sergey Lavrov soon will be in management of truly colossal amounts of money. It is also interesting that "Rossotrudnichestvo" now will be not only in charge of arts, science, culture and education, but also in charge of Kremlin-controlled foreign nonprofit organizations. Can you imagine the potential for corruption here?
That leaves to wonder, who will pay for all of this. Well, obviously except of Russian citizens, which are paying for all this by default. According to some Russian insider sources, some Russian businesses abroad will be co-investing in this project. Well, if you like to make money because of Lavrov's diplomatic efforts, you must love to invest into spreading of "Russian world", financing the lobbyists of Russian interests in political and business elite circles.
This idea is not quite a new one. The well-known "Gorchakov Fund", which was described in detail in the recent investigation "Hybrid analytics" by Kateryna Smagliy, telling about think tanks and funds which are working with Kremlin interests in mind — that Fond has a notable "Board of Trustees".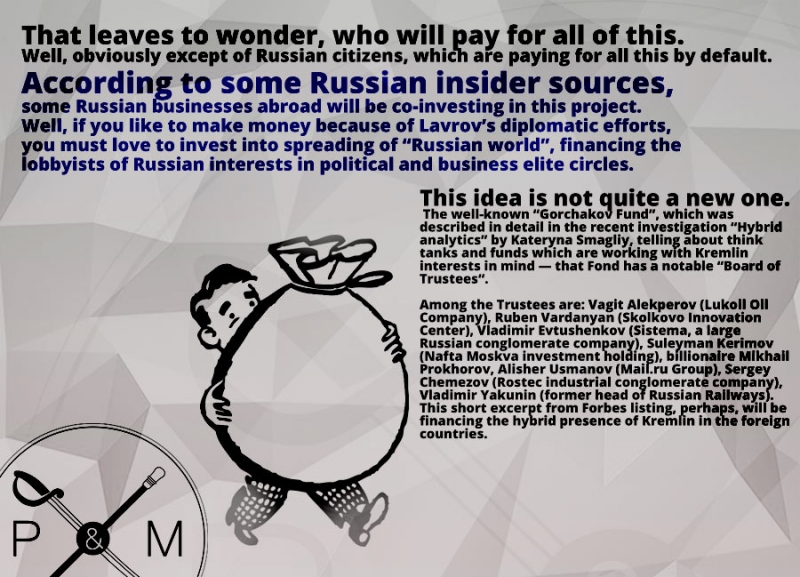 Among the Trustees are:
Vagit Alekperov (Lukoil Oil Company), Ruben Vardanyan (Skolkovo Innovation Center), Vladimir Evtushenkov (Sistema, a large Russian conglomerate company), Suleyman Kerimov (Nafta Moskva investment holding), billionaire Mikhail Prokhorov, Alisher Usmanov (Mail.ru Group), Sergey Chemezov (Rostec industrial conglomerate company), Vladimir Yakunin (former head of Russian Railways). This short excerpt from Forbes listing, perhaps, will be financing the hybrid presence of Kremlin in the foreign countries.
Using non-government money to secure the government interests is a common scheme for Kremlin. Vladimir Putin lets his friends earn money on the government projects, but in exchange he demands their financial support in the development and promotion of the Russian "soft power". A good example would be a "Christian oligarch" Konstantin Malofeev, who is slightly removed from the crucial foreign relations question at this moment. But according to the information available, he was financing the so-called "Russian spring" in Crimea and Donbass region.
Aside from being in the "Gorchakov Fund" Board of Trustees, Vladimir Yakunin and Ruben Vardanyan also finance the special fund, created in Switzerland, which supports another think tank in Berlin, named "Civilizations Dialogue". This institute too was discussed a lot, just as enough was said about the "close friendship" between Vladimir Yakunin and Czech Republic President Miloš Zeman, which is a frequent guest of Yakunin on conferences and informal meetings. Yekunin even provided Zeman with a private jet airplane to secure the meetings.
It's no wonder that branches of "Rossotrudnichestvo" (and other non-governmental organizations in the countries of Europe) are nothing but the cover for the Russian Foreign Intelligence Service and Main Intelligence Directorate. One the interesting aspects of the incident, which had placer afte the Buzzfeed media published a secret dossier on Donald Trump's election campaign, was the fact that Trump's lawyer Michael Cohen visited Prague to meet with the "Rossotrudnichestvo" representative in Czech Republic Oleg Solodukhin.
Jakub Janda, a head of Prague analytic center "European Values" commented for media: "What we can add, as a security-oriented European Values Think-Tank, is that Mr. Solodukhin is well know in Prague diplomatic circles and that he has been repeatedly gathering intelligence at our public events".
Michael Cohen repeatedly denied the fact of this meeting, just as Oleg Solodukhin, a deputy head of "Rossotrudnichestvo" branch in Czech Republic, did. "I never met Dona;d Trump's lawyer Michael Cohen", claimed Solodukhin in his interview to RIA "Novosti".
The sources in Czech security forces also confirm that Cohen did not cross the European Union border in Prague, though he could travel to the city from another European country, which is impossible to prove or refute through the open data sources.
Konstantin Vorobyov, a head of Russian Center of Science and Culture in Kyiv, is considered to be a Russian spy by media and experts. Vorobyov frequently had meetings with representatives of Ukrainian Orthodox Church of the Moscow Patriarchate. He was visited by Kyrylo Vyshynsky, who is currently under investigation in the subject of conducting the information operations in support of Crimea annexation.
A history of Kremlin creating the controlled volunteer, non-governmental and activist organizations in Ukraine stretches well back, up to the first years of Ukrainian independence. Unfortunately we must admit that throughout virtually all years of Ukrainian independence Kremlin invested more into the Crimean informational and cultural space than Ukraine did. For example, a "Moscow-Crimea" Fund of Economic and Humanitarian Connections was created at November 27th 1996. A former Moscow mayor Yury Luzhkov was a head of the board of trustees of this Fund. When his political perspectives were high, he particially supervised the processes in Crimea, in particular ones in the sphere of cultural and humanitarian programs financing.
At April 27th 2001 Luzhkov opened the Russian Cultural Center in Simferopol, created by his own Fund "Moscow-Crimea". And in 2008 Ukrainian Security Service of Ukraine denied Luzhkov from entering Ukrainian territory, because of his separatist statements. While taking part in the concert in Simferopol, dedicated to 225th year of Russian Black Sea Fleet, Luzhkov commented that Moscow intends "to solve the question of Crimea's belonging".
Naturally, since the moment of Russian aggression against Ukraine started, the :cultural connections" were of less importance, but the number of Kremlin-employed "activists" in Ukraine did not decrease. These are the people who claim to be the "patriots suffering from illegitimate Ukrainian government" .
In the early 2016 media was spreading the story of "patriots" who used the social media to organize the "Third Maydan protests". Later Ukrainian media "Texty" held an investigation which proved the existing connection between the thousands of social media accounts with "Third Maydan leaders", such as Stepan Mazura. There were other "activists", such Sergey Razumovsky (a head of "All-Ukrainian Union of Homeless Officers"), Rustam Tashbayev and many more.
Even in the unrecognized Donetsk People's Republic (unrecognized by everyone including Kremlin itself!) a so-called "Russian Center" was created in February 2018, headed with a Denis Pushilin. The minor task of this center was to help in developing the processes of integration of the Moscow-occupied territories into Russian Federation. The major task though for this center was to secure the media presence to Pushilin, along with providing a required support for agitation events before the unlawful elections held at Novermber 12th.
At October 23rd in Donetsk a forum was hels named "Russian World and Donbass: from cooperation to the integration of education, science, innovations and culture", with heads of Donetsk and Lugansk People's Republics Denis Pushilin and Leonid Pasechnik taking part, along with some official representatives from Russian Federation, such as State Duma member Andrey Kozenko, Crimean-born head of the "Russia – Donbass" Integration Committee.
While at forum. Pushilin stated: "We rose for the Russian World, which we would be deprived of by Kyiv fascists government". A Russian State Duma member said: "The integration of Donbass into Russia is inevitable". But we all know that these are merely loud words. In reality, the task Pushilin was presented by Surkov and his minions is: to gradually re-integrate occupied territories back into Ukraine, which would need to find funds for the reconstruction of razed and robbed region and its industry.
And in case of success of Pushilin, the "Russian Center" will serve as a kind of cancer tumor in the body of the country — the same as Luzkhov's funds in Crimea, which were invested into by the Russian Federation consular office in Simferopol. A tumor like this, instead of questions of culture, language, science cooperation, would deal with the tasks of spreading and supporting of Russian narratives and myths in the informational space.
У самурая нет цели, есть только путь. Мы боремся за объективную информацию.
Поддержите? Кнопки под статьей.